Host profile: Conscious & K-Nicole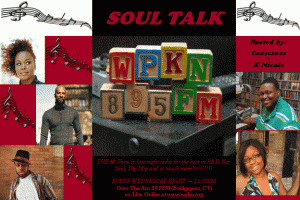 The opportunity to have us create and share "Soul Talk" for WPKN's listeners is a testament to the station's desire to remain innovative and fresh.
Neo Soul's fusion of R&B, Hip-Hop, Jazz, and Poetry collectively births music that continuously speaks to our souls as radio personalities, DJ's and music lovers.
Soul Talk will be Connecticut's weekly "soul check" with the best and latest from the likes of Jill Scott, Maxwell, Alicia Keys and many more of your favorites. We'll also be spending time in our "Midnight Conversations" with artists and entertainers you love.
Conscious: "Through my experiences in radio I have leveraged this platform to bring awareness to issues surrounding education and social justice, using a unique blend of soul music and socio-political commentary. In addition to being a radio personality and DJ, I am also a regionally recognized and accomplished spoken word artist. I have had the privilege of performing at venues along the east coast such as the Nuyorican Poets Café, The Sugar Shack, and Lyrical Voices. My work is published in Yale University's Peabody Museum's edition of Poems on the Road to Peace. I am a proud alumnus of Jones International University (Masters in Business Communications) and the University of Bridgeport (B.A. in Mass Communications), where I was the recipient of the Martin Luther King, Jr. Bridge Award for serving our youth and community."
K-Nicole: "This is my first endeavor into the world of radio, thanks to Conscious. In planning our show, my role is typically to bring a raw, innovative, challenging, and fresh outlook to the show and to serve as an in house "expert" on soul music. I'm never shy of an opinion and I'm always willing to give Conscious a run for his money. In addition to being a radio personality, I am also an accomplished spoken word artist and a student at Capital Community College in Hartford."
Hosted shows