Host profile: Colette Rossignol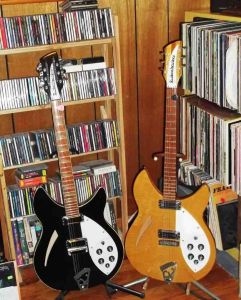 Colette Rossignol has been the host of the Capital Radio program since 1982 with a brief hiatus spent down South. Currently spending too many years in graduate school and too much time in front of a computer, she still unwinds listening to old school punk (the Jam still rule!), Pop (think Raspberries), Brit-Pop, Alternative, Garage, and other forms of music.
As you can see from my picture, my prized possessions two RIckenbackers - a mid-80s 330 12-string and a 1967 330 6-string guitar.
On occasion when she has the pleasure to fill-in for one of the many talented PKN programmers, the musical choice of the day maybe Jazz or Blues.
Hosted shows