Host profile: Doug Echols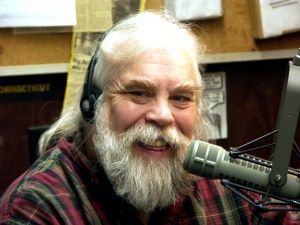 I started doing radio in the early 1960's in my Freshman Year at Marietta College in Ohio. I was the proud owner of a yellow card, a Third Class Radio License. We had to learn to engineer the broadcasts and operate the transmitter before we earned our way to on-air announcing, news, sports and music shows. I "appeared on the air" for the first time accidentally when a news team failed to show for the evening news. The hot news story was the war between Patrice Lamumba and Joseph Casa-Vubu forces in the Congo. What ensued was a wild evening of this neophyte newscaster discovering the world of African revolutionary politics, reading the copy unedited and cold. It is a story I will share with you over a cup of coffee or a beer someday if your'e interested.
I returned to Connecticut after 3 semesters and started evening classes at the University of Bridgeport, where I discovered the fledgling WPKN studios in 1964. The World being what it was then, I was off to the US Air Force in '65 going overseas till 1970. I heard radio around the world and always the American Armed Forces Radio, which kept me up on all the music on radio with little, if any, television. When I got home a friend said "Oh you gotta listen to WPKN in Bridgeport," and I have ever since.
Hosted shows