Host profile: Kevin Gallagher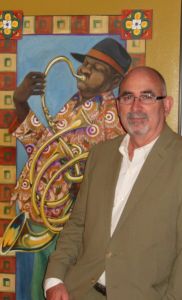 Passionate about saving our planet for his grandchildren Luke and Ellie, WPKN radio, "Digging in the Dirt", gardening and farming, especially growing tomato's! Love's live Music, Gourmet cooking, good red wine, detective novels and John Garfield movies..
Audio/Video - Documentarian.
Digging in the Dirt - Mondays at 5 pm
Digging in the Dirt is Kevin's, a half hour or so, interview program where we dig a little deeper into subject matter that gets little play in the so called mass media. " I'm interested in healthy food, farming, gardening, the Climate crisis, pollution and a myriad of other environmental issues and of course growing tomatoes." Kevin's guests have included everyone from Dianna Cohen the co-founder and Executive Director of the Plastic Pollution Coalition, Mark Fulford a well known, independent farm consultant and educator, Dan Kittredge founder and Executive Director of the Bionutrient Food Association, The award-winning climate scientist Michael E. Mann, Ct. Organic farmer Bryan O'Hara, garlic farmer Doug Johnson of Sunrise, Sunset Farm in Woodbury CT. and many many other farmers, scientists and leaders of the healthy soil movement. A lot of talk about soil and dirt from people like Ray Archuleta, Micheal Astera, Dr. Elaine Ingham, Paul Bogard and Doug Decandia of the BFA. If you like to garden or worry about the future of our Mother earth for our children and our children's children, listen in.
Hosted shows