Host profile: Bob D'Aprile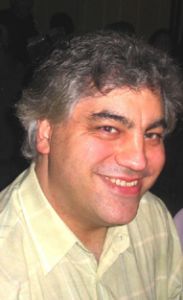 Connecticut Rocks! on WPKN
with Bob D'Aprile
November 2009 - November 2014
(weekly, overnights, fill-ins)
August 2016 - December 2017
(fill in slots)
In addition, Connecticut Rocks!
can be heard on demand
via archive.org
AND podcasts at
www.mixcloud.com/ctrox
=====================
Many shows archived at
www,archive.org
(unlimited streaming )
2009 -2014
I hosted two shows (375 total shows)
CONNECTICUT ROCKS! (264 shows)
(alternating Thursdays 4pm to 6:50pm )
most Saturdays 2am to 6am [late night Friday])
and FREE FORM FRENZY! (111 shows)
(an odd Saturday 2am to 6am [late night Friday]

ALSO, an odd fill-in here and there ... anytime!
On Connecticut Rocks! you can hear music from Connecticut indie original bands of the past, present and future ... If you are in a band or were in a band in the past, please contact me on how you can get your music played on Connecticut Rocks!
To contact me, please send an email to:


[email protected]
-------------------------
keep on rockin'!
In-studio / on-air guests on CT ROCKS!
many of these shows (the first 100) are available via archive.org:
2011:
#55:
- Greg Buzi, solo / band leader Quicksand Collective

#56:
- Chris Frantz, from Tom Tom Club
- Christine Ohlman ::: The Beehive Queen
#57:
#58: Dave Schneider from The Zambonis
#59:
- James Mauri and Ryan Zigmont
- Ron Sutfin + Kerry Miller
#60:
- Shawn Taylor singer / songwriter performs LIVE in-studio
- Bobby Crash and Pete Barerra from Burnouts In Outer Space
#61:
- Eric Donnelly + Tim Warren from The Alternate Routes
- Michael Arafeh, Show #01, Songs From The Coffeehouse
#62:
- Rick Reyes from Cosmic Jibaros / Pasofino Club
- Adam Lippman from Automatic Children
#63:
- Rob Carlson from Rob Carlson and Benefit Street, formerly in Modern Man, and oh so many other projects.
- Angel Telesco and Renard Boissiere from Black Rock Rocks Mardi Gras Weekend
#64:
- Sam Perduta singer/songwriter from the band, Elison Jackson
#65: no guests, just music.
#66: Bill Shaka from Shaka and the SoulShakers
#67:
- Michael Arafeh, Show #02, Songs From The Coffeehouse
- Jennifer Hill from Jen Hill & Co. and SWAN Day CT (SWAN = Support Women Artists Now)
#68:
- Melissa Mulligan performs LIVE in-studio
- Three members of Whiskey For Breakfast
- Patrick Hearty from The Mighty Ploughboys
- Jay Cusano and Julie Hymans from C.A.N. (Collective Artists Network)

#69: Matt Vitti from the band, Mother Brother

#70: no guests, just music
#71:
- John Wilkins, discussing an upcoming Bik Ride + Art Show
- Duece Bug, Maria Manes of Mindz-I Entertainment, Kenny Cash
- Bert Genovese from Bobbie Peru
- The band: Captain Ismael and the Sound Avengers
#72:
- Tom Hearn and Legs McNeil
- Christian Marrone + Matt Perry (Tricksleeves)
- Matt Galvin + Paul D'addario (Farmertan)
#73: Joe Nolan (Kimono Draggin')
#74:
LIVE in-studio guest: James Mauri :: NEST Arts Fest music :: Daffordiil Fest bands :: LIVE phone-in: Robbie DeRosa
#75: no guests, just music.
#76:
QueenStryche, Skater Tot and Revengela from CT Roller Girls ::: Steve Zimmerman and Tommy Blardo from Enemy Remains ::: Al Pist and Mike Farrelly (CT Punk Rock)
#76a:
fundraising special : Bobby Pickett from The Fret Notz, Bill Sciacca from Shaka and the SoulShakers, and Marco Frucht in-studio / Eileen Walsh from 305K Gallery phone-in.
#77:
- Michael Arafeh, Show #04, Songs From The Coffeehouse


-

+ a short FREE FORM FRENZY / SwampShaka's Carnival of Soul : Louisiana Funk Fest Part 2
#78: no guests, just music.
#79:
in-studio guests : Dave Hogan / Thomas Perez / on the phone : Mike Lawson of Local Band Review ::[fill-in for Kevin Gallagher]
#80:
The Stepkids (Tim Walsh + Jeff Gitelman) discussing their recent West Coast Tour, upcoming Midwest Tour + Keith Rodgerson : Park City Noise 7 [fill-in Pete Stewart]
#81:
members of the funk-soul band, SOLISTIC / Sue Menhart phone-in / and Nancy and Bill from IDEAT VILLAGE
#82:
Michael Arafeh, Show #05, Songs From The Coffeehouse : focus on Michael Cleary Band
#83:
In-studio guests, Megan Keith and David Keith / Mission 0 ::: and lots of CT indie originals!
#84 7/4/2011:
in-studio guests : Lou Lorenzo from FAREWOOD + David Keith from .DBK.

#85:
- Artie Tobia and Stu Stahr of Artie Tobia Band
- Julia Bess from The Bridgeport Arts Fest, Brian Kelly from Talking To Walls, and Tim Walsh from The Stepkids
#86: no guests, just music.
#87:
- Michael Arafeh, Show #06, Songs From The Coffeehouse
- Scott Amenta, chats about the Rock Ur Ink Off Festival
#88
- Seth Tiven from Dumptruck
#89
- The Colt Six
- I Anbassa
- Steven Deal (via phone)
#90
- Michael Arafeh, Show #07, Songs From The Coffeehouse
#91
- AM edition (6am to 9am) no guests, just music
#92
- Bill J Ready and Matt Thomas from Fuzzy Rainbow Productions
#93
- Dixie Normous
#94: no guests, just music.
#95
- Kink Ador (from Nashville TN)
- Phil Nichols and Eliot Lewis
- Forrest Harlow (via phone)
#96
- Michael Arafeh, Show #08, Songs From The Coffeehouse
#97 no guests, just music.
#98 no guests, just music
#99 no guests, just music
2010:
Dave Schneider from The Zambonis
Jennifer Hill from the band Jennifer Hill and Co.
Aaron Garavoy from the North Shore Troubadours
Veronica Vixen of Frisky à Go Go
Grant Squires, singer-songwriter
Dave Hogan from the bands Greylight Campfire, The Rafter Bats
Ben Henson, City Planner for City of Bridgeport / Downtown Thursdays
Revengela of the Connecticut Roller Girls
Meredith DiMenna from the band Saint Bernadette
Peter Katis and Tarquin Katis from Tarquin Studios, and the bands The Philistines Jr., The Happiest Guys In The World
Mike Milazzo, singer-songwriter
Fernando Pinto, the man behind Tune Inn, The Nightshift, and Elevator Music Records
Jared McGovern of Soul Reapin' 3, Amy Rose and her Troublemakers, and The Long Goodbyes
Solistic, members of the Milford-based funk/blues band
Pablo X of Skratch Happy, a band from New Haven
Brian Lanese of Permanent Ability
Pat Lattin of the Pat Lattin Band
Brian Kelly and Nat Webb of the band Talking To Walls
Conversations on The 2010 Bridgeport Art Trail with
• Suzanne Kachmar - City Lights Gallery,
• Eileen Walsh - Gallery at Black Rock,
• JodiAnn Strmiska - Ground Floor Gallery at Read's Artspace
• Janine Brown - American Fabrics Arts Building,
• Dylan Cotton - The Cotton Press,
• L.A. MacLean - Jazzworks
Eliot Lewis, who plays with Hall & Oates, chats about his new solo CD, 6 and One
The Skanktones
Christian Marrone
three members of Remember September (Chris Schod, Jay Schod, Mary Albano) talk about Holiday Concert for The Troops
Meredith DiMenna from Saint Bernadette on an upcoming Sunday Mass at Acoustic Cafe
Tom Smith of The Bandidos, The Hickups, Gone Native and other bands chats about AlexFest, a benefit event for Alex DeFelice
Steven Deal from Bleached Black, Chopper, Absolute Zeros, Love and Hymen and his recent solo album.
On the phone, Malcolm Tent from Bunnybrains and the store, Trash American Style
Call-in on Free Form Frenzy, Kenn Rowell from The Bagdaddios
Hosted shows