Host profile: Sam Hopkins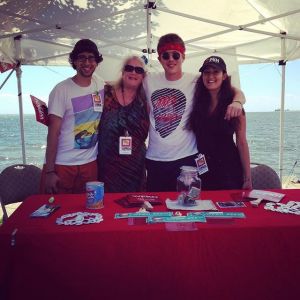 For all long as I remember I've been listening to WPKN. It's the only radio station i've ever really listened to and now to be a new programmer it's more than a dream come true. The A-list (monday 2-6am), started with my good friend and fellow pkn programmer Vinny (hosts the sunday morning edition of the A list from 2 to 6am) went to pkn studio's after class one day when I was telling Vinny about the station. We met Peter the first time, and keep coming back, where we met the great Terry Hopper host of the Quest who said that we could guest dj with him the next time he was on the air. But, two weeks later Terry was sick and Icon the Closer was sitting in. We met Icon that day and played some reggae music that seemed to impress him and he invited us to join him during his overnight shift. Icon showed us the way of overnight radio and then we got our own shows. Truly a dream come true.
During the A-List on monday mornings from 2 to 6am we usually play a wide variety of music for the first 3 hours, everything from Frank Zappa to Frank Sinatra, from Elton John to John Cage, from Robert Zimmerman to Robert Nesta Marley and pretty everything in between from the ordinary to the avant-garde you never know quite what your gonna get and neither do we. At 5am its MONDAY MORNING MOTOWN MADNESS where we play Motown, R&B, Soul, and Funk to get your monday morning started right.
Hosted shows