Host profile: The A-List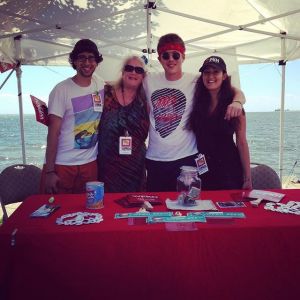 The A-List is the overnight sensation sending frequencies into outerspace since 2011.
Hosted by Sam and Vinny The A-List brings you: The Best of the Best, The Cream of the Crop, The Bee's Knees, The Cat's Pajamas, Interviews with Local and Critical Acclaimed Artist, Live in Studio Performances, Deep Cuts, World Premieres, Monday Morning Motown Madness, Mandatory Marley and more...
How The A-List began....(short version)
After class at the University of Bridgeport we sat in a car and listened to 89.5fm. We then walked to the station and knocked on the door. We were meeted by Peter Bohshan (gm at the time) and he gave us a tour. The next day we came back to station where we met Terry Hopper. He invited us to come onto his next show. Two weeks later ICON was filling in for Terry. ICON let us play some Peter Tosh songs and then invited us to do an hour during his overnight show. A few months later we both had our shows during the wee hours of the night.
Years of fun listening, playing and discussing music with friends and fellow listeners have followed.
Currently The A-List airs:
2nd and 4th Sundays 2am to 5am hosted by Vinny
Mondays 2am to 6am hosted by Sam
and
The A-List Prime Time airs:
4th Saturdays 7pm to 10pm
The A-List also host the on going WPKN Underground concert series at The Acoustic in Bridgeport.
The A-List has many frequent flyers and many co-host as well. We thank them for there service. We love to serve.
WPKN is the greatest radio station on the planet.
We Are The A-List
So Are You
Hosted shows