Host profile: Michelle Morgan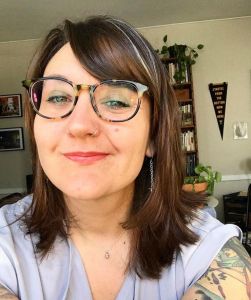 I was born and raised in Maine and will mention it at least once per show. I currently live in West Haven. I came to Connecticut almost a decade ago to pursue my PhD in American Studies at Yale, wound up putting down roots here and marrying the head baker at Scratch Baking in Milford, and decided to stay.
I was recruited to radio by Val Richardson, who asked me to come on as a programmer after a few casual mentions of concerts I was going to or had recently attended. Programming is something like a dream-I-didn't-know-I-had come true. I was always the friend who knew a lot about music or was trying to turn people on to bands or songs I came across, but until now I didn't have an outlet (or a semi-captive audience). In high school, when the wind was blowing the right way I would listen to Bates College Radio out of Lewiston, Maine, and wish I could have a radio show.
I describe my musical tastes as eclectic, but more honestly they fall along the Indie/Alternative/Americana/Dream-Pop/Folk-Pop/Folk/Punk/Post-Punk lines. I am very invested in playing female and queer singers and musicians, but have a soft spot in my heart for Classic Rock, which was the soundtrack to my youth. I also host Mic Check on the first Sunday of the month, where I get to flex my public affairs muscles and talk about political issues near and dear to my heart.
Off-air I am a mom to an adult child, Ezra, work in educational technology, adjunct as a professor at Connecticut College, and run my vast fine art hand embroidery empire under my Instagram handle, @mutuallyassureddeconstruction. I'm also working on a series of essays about the intersection of my queer identity, gender, and childhood as I found and expressed it through music. You can read a few of those essays online at Medium.
Hosted shows