Host profile: Valerie Richardson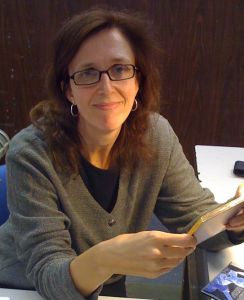 I've always loved alternative radio, be it community radio or college radio. I remember being four or five years old and riding around with my dad on Saturday morning errands. He would always listen to a folk show on a local college radio station, and I loved the show as much for the music as for the genial host who seemed to know everything about that style of music. I grew up in the suburbs of Washington, D.C., and my coming-of-age station was WGTB, which broadcast alternative music and alternative political points of view from Georgetown University. This was also my introduction to freeform radio, where the programmer would take a wide range of eclectic styles of music and bring them all together in the space of one set.
When I started college at the College of William and Mary, I found my way to my school's radio station (WCWM) during the very first week of classes and had my own show in the first semester. On moving to Connecticut just after college, I fell in love with WPKN. The first host I heard was Rod Ross, talking about his dog. I became involved with the station as a volunteer during 1989, when the station had lost its funding and seemed on the verge of closing down.'
In 2022, I am celebrating 32 years of being on-air at WPKN. In my life outside radio, I'm a visual artist and appreciate the wonderful companionship of WPKN while I'm in my studio. I'm grateful to have this radio station and community of programmers and listeners as my family, and I'm particularly grateful to everyone who loves and supports the station.

Hosted shows